Two awards from Moniack Mhor for those who would like to take these courses but find the cost prohibitive:
Two Roads Award
This what they say about it (click on the link for more details and to enter):
This new award aims to support the development of two talented emerging writers of Fiction and Non-Fiction on low income, who may find fees a barrier to attending a course. Through the generous support of Two Roads, we will be offering two funded places on a week-long course or will support writing activity to a comparable value.



https://www.moniackmhor.org.uk/writers/awards-fellowships/two-roads-award/
And for aspiring travel writers, about which they say (click on the link for more details and to enter):
Travel Writing Award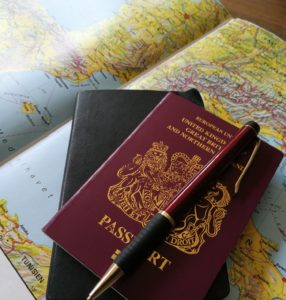 The Travel Writing Award was established to give a writer, living and/or working in Scotland, the opportunity to develop skills in the genre and enhance their writing practice.
Kindly donated by Mairi Hedderwick, the Travel Writing Award will this year support one place on the Writing and Place Fiction and Non-Fiction Tutored Retreat at Moniack Mhor Creative Writing Centre (May 13th– 18th, 2019).  The tutors for the course are Kapka Kassabova and Malachy Tallack, with guest Cat Flyn.



https://www.moniackmhor.org.uk/writers/awards-fellowships/travel-writing-award/


Time Travel: Now & Then
From The London Reader who has an open call for time travel! This is what they say:
Deadline: January 31, 2019
Since the time machine of HG Wells and the ghosts of past and future of Charles Dickens, authors and artists have used time travel to explore humanity through the looking glass of another time. What happens when characters have the chance to talk to themselves in the past or when they receive a glimpse of possible futures?

The London Reader is issuing an open call for short stories, flash/mini-fiction, poetry, artwork, and any other literary, speculative, or science fiction that reveals character or explores difficult issues facing society through the convention of time travel.

The concept of travelling through time may be interpreted broadly by contributors. Among other inspirations, works can be in the style of Philip K. Dick's Minority Report, Octavia Butler's Kindred, Kurt Vonnegut's Timequake, Sun Ra's Space Is the Place, Audrey Niffenegger's The Time Traveler's Wife, or the butterfly effect of Ray Bradbury's A Sound of Thunder.
This is quite an unusual one: "We showcase high-quality creative writing and art that explores the impact of violent conflict and military service beyond the combat zone." For more go to Collateral.
For anyone who has written a book here is a publisher for whom you don't need an agent, and who publishes stuff not easily categorised: Whisk(e)y Tit.
Ever fancied knowing more about the work of Robert Burns? Here's your opportunity: a free, four week course by my alma mater, the University of Glasgow. For more information and to sign up go here.
Lastly, The interpreter's House has an Open House Poetry Competition: click on the link to find out more and to enter.
Apologies for this rather scrappy entry, I became distracted by political happenings and ran out of energy. Hopefully I've at least provided all the right links so you can go and check them out for yourselves and see if they're what you're looking for. Good luck!
Header image by Matthew LeJune on Unsplash