Look what just landed in my inbox! This is the nineteenth year of the Wigtown Book Festival, and it gets better every year. If you love reading, and all things book, this is the festival for you. It's not so huge it feels impossible to do it justice, it may even be called 'boutique' by the people who like such labelling, and it's surrounded by astonishingly beautiful landscape. I can't think of a better combination.  Now I am off to commune with the program, tick off the musts, and work out the hows!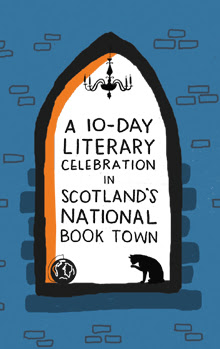 The World in Wigtown
Two weeks today, Wigtown Book Festival 2017 begins. This year's festival brings voices from across the globe. We'll be looking at France, Germany and Morocco, considering life after Trump, and contemplating social, intellectual and political Revolutions. And in an age of "fake news", we're also celebrating the role of the reporter, with appearances from among others Martin Bell, Angus Roxburgh and Bridget Kendall.
With more than 250 events, there's something for everyone. We hope to see you there. You can find the complete programme at www.wigtownbookfestival.com. Happy browsing.
The Festival Team
---
MAIN PROGRAMME
The End of American Influence
Sun 24 Sept – 3pm
MAIN PROGRAMME
Bridget Kendall
The Cold War: A New Oral History of Life Between East and West
Sat 30 Sept – 3pm
MAIN PROGRAMME
Andrew O'Hagan
The Secret Life
Sat 23 Sept – 1:30pm
A Crime to Miss Out
Wigtown is a pretty peaceful place as a rule. But for 10 days there is murder and mayhem about as we welcome some of Scotland's best crime writers. There's even a chance to get a sneak preview of Booker Prize 2016-shortlisted author Graeme Macrae Burnet's new work pre-official publication. And we start with Janet's Morgan's life of Agatha Christie
MAIN PROGRAMME
Janet Morgan
Agatha Christie: A Biography
Fri 22 Sept – 5:30pm
MAIN PROGRAMME
Graeme Macrae Burnet
The Accident on the A35
Thu 28 Sept – 12 Noon
MAIN PROGRAMME
Denise Mina
The Long Drop
Sat 30 Sept – 1:30pm
Bella Bathurst's Sound
In 1987, award-winning writer Bella Bathurst began to lose her hearing. Deafness shaped her life – until 12 years later everything changed again. Sound is both her moving personal story and a study of the how sound and noise affect us more than we'd even imagine. To find out more or book tickets click here.
---
Principal funders